The Secret of Ashona is the fifth instalment in the Erec Rex Series. It was released in 2012.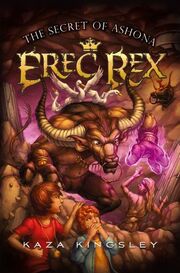 Synopsys
Edit
Erec Rex has had many difficult tasks in the past but none like the task he has to face right now. Erec has lost most of his soul and has to retrieve it from the three furies. If Erec doesn't get his soul back soon, he will turn evil. Meanwhile his brother, Trevor, is in trouble and Erec needs to save him as well. Erec has also received his 7th task which is just as dangerous as the last. Bethany, on the other hand, is stuck at home with Erec's family and Jam. Erec is also trying to release the souls kept by the furies free. To do this, however, he has to give himself up to his worst enemy: Baskania.This couldn't be a worst time for Erec to be facing what he is.
Ad blocker interference detected!
Wikia is a free-to-use site that makes money from advertising. We have a modified experience for viewers using ad blockers

Wikia is not accessible if you've made further modifications. Remove the custom ad blocker rule(s) and the page will load as expected.