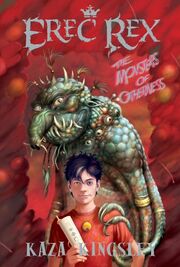 The Mosnters of Otherness is the second instalment of the Erec Rex series. It was published in 2007
Synopsis
Edit
Trouble is brewing in quiet, pleasant Alypium , and only Erec Rex  can make it better. All of the baby dragons have mysteriously disappeared, and King Piter  has lost the trust of his people. Worse, evil kids will become the new rulers unless Erec agrees to return to Alypium and challenge them. But if Erec becomes king, the power of the royal scepter could destroy him completely.
As Erec performs the deadly quests to be king, he discovers that the right path brings many risks and few rewards. WHen he must delve into the very Substance  that holds out world together, he has to summon all of his strength just to stay alive. Until Aoquesth , the dragon, gives him a startling gift.
Ad blocker interference detected!
Wikia is a free-to-use site that makes money from advertising. We have a modified experience for viewers using ad blockers

Wikia is not accessible if you've made further modifications. Remove the custom ad blocker rule(s) and the page will load as expected.